Join the Alle-Pia Salumi Club
Our Salami Club makes it easy for members to try every one of our delicious salami delivered conveniently right to your door. Included with your quarterly shipment are exclusive recipes from Chef Varia. Enjoy three of our products, a recipe and a bonus gift every three months PLUS shipping is included in our club!
We send out quarterly shipments every March, June, September, and December.
March 2021 Shipment - $60
Price includes shipping and appropriate taxes
Shipments are delivered the first week of March.
Barolo, Calabrese, Nduja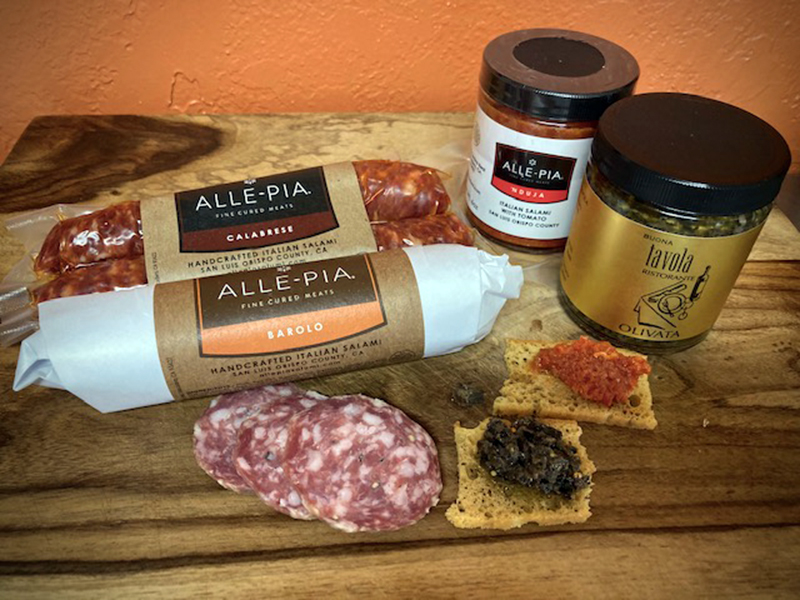 Barolo This robust salami, bursting with flavor, features Barolo wine from Italy along with the finest fresh spices. This traditional artisan salami is known in Italy as Salame al Barolo, a meat delicacy that comes from Piemonte in Northern Italy, the birthplace of Barolo wine and our family. 6 ounces
Calabrese A drier, spicy salami. This salami is pre-peeled and vacuum packed. Just slice and eat! Excellent on pizza or with a cheese platter. 8 ounces
Nduja Salami in a jar! Alle-Pia salami mixed with sundried tomatoes, extra virgin olive oil, red chile peppers and garlic in an easy to use spread. 6 ounce jar.
Free Gift - Buona Tavola Olivata (6oz jar)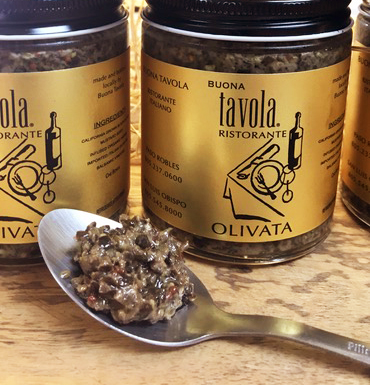 Buona Tavola's homemade Olivata, made with black olives, mustard seed, infused organic herbs, imported Italian olive oil and balsamic vinegar.
Also included is our recipe for Nduja Spaghetti